Our qualitative reach to deliver wide range of two Wheeler and Four Wheeler Tube, has shown us the way to growth and prosperity. Kanam Industries is a reliable Manufacturer, Supplier and Exporter of Bike Tube, Bus Rubber Tube, Three Wheeler Rubber Tube and other allied products that are known for their top performance, low maintenance and advance features. Located in Kashipur, Uttarakhand (India), we maintain cooperative approach not only with our employees but with the certified vendors and respectable patrons. Our firm has established a strong foothold in the national as well international market by manufacturing in three blends, that is, VINSAR, ASHFORD, TFC.

Product Portfolio

Our product range encompasses the following:

Bike Tube

Truck Tube

Bus Tube
Automotive Tube
Bike Rubber Tube
Car Rubber Tube
Bus Rubber Tube
Truck Rubber Tube
Three Wheeler Rubber Tube
Why Prefer Us?
We have secured a respectable position in the market owing the set of factors listed below:
Expert and Experienced Team of Workers
Sound Infrastructure
Reasonable Price
Quality Confirmed Tube
Clarity in Deals
Company Specifications
Nature of Business

Exporter
Manufacturer
Supplier

Year of Establishment

2013

Income Tax Registration No

AATFM6377M

Original Equipment Manufacturer

Yes

Annual Turnover

Rs 7 Crores

Capital in Dollars

Rs 3 Crores

No. of Production Units

1

No. of Employees

15

No. of Engineers

3

Monthly Production Capacity

140000 Tubes/month

Export Percentage

40

Export Turnover

Rs 3 Crores

Export Market

Bankers

Punjab National Bank
List According To Size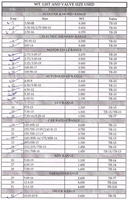 Contact Us
Plot No:-163, Nand Nagar, Industrial Estate, Phase -2, Village:- Mahuakhera Ganj, Kashipur, Uttarakhand, 244713, India